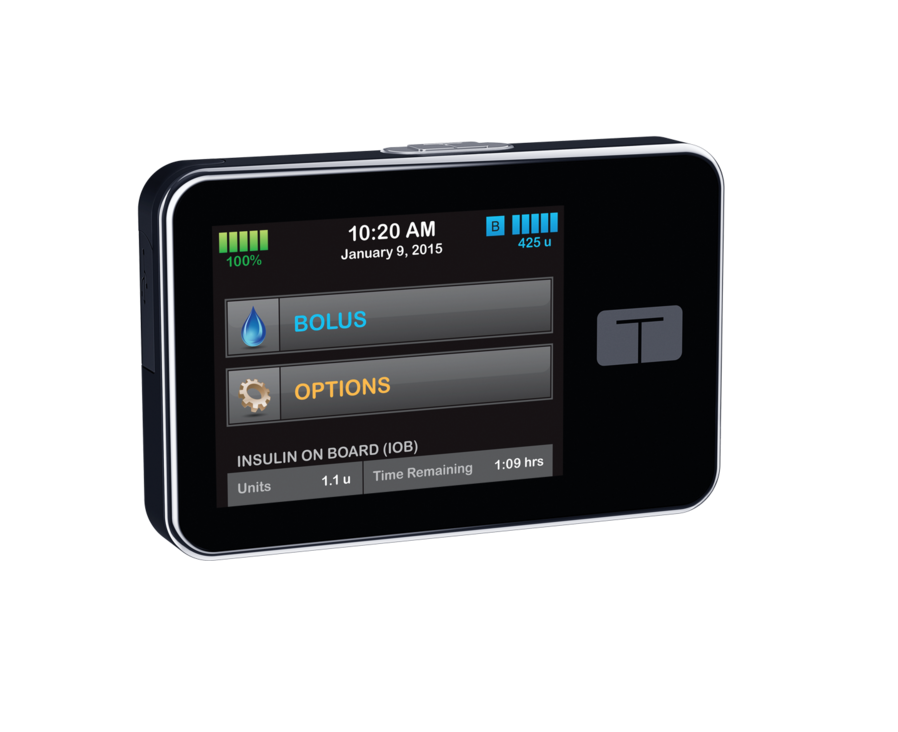 Tandem® t:flex® Insulin Pump
t:flex® insulin pump is designed to make daily insulin management as simple as possible with added freedom and flexibility. While small and discreet, t:flex® has enough capacity to meet daily insulin needs.
Largest insulin pump capacity on the market with 480 units; up to 3 days of continuous insulin delivery
Ideal for those requiring more than 80 units of insulin a day
Intuitive touch-screen design for ease of use and programming
Micro-Delivery® technology designed with safety features and precision insulin dosing
Customizable Base Rates: 60-unit maximum bolus
Integrated micro-USB port for charging and data transfer
t:connect® Diabetes Management Application, a web-based Mac and PC compatible diabetes management software
Durable, light-weight aluminum case and shatter-resistant glass
Tandem® t:flex®
Memory: 90 days
Use with Water: Watertight - 3 ft. for 30 mins.
Size: 2" x 3.13" x 0.84"
Weight: 4.05 oz., with full reservoir
Battery: Rechargeable lithium polymer battery
Backlight: Yes
Screen Display: Color touch screen
Available Colors: Black
Basal Rate Minimum: Start 0.001 units at programmed rates > 0.1 units/hour
Total Basal Rates/Profiles: 6 profiles, 16 timed setting per profile
Temporary Basal Rate: Yes (from 15 mins. to 72 hrs.)
Minimum Bolus Increments: 0.5 units
Reservoir Capacity: 480 units
Data Management: t:connect® Diabetes Management Application (web-based, Mac & PC compatible)
Compatibility: Windows Vista, XP, 7, Mac, Cloud-based
REORDER NOW
Existing patients, click to log in or register your CCS Medical account.
REORDER
NEW TO CCS MEDICAL?
New patients, call or click to get started today!
1.888.MEDICAL (633.4225)
GET STARTED