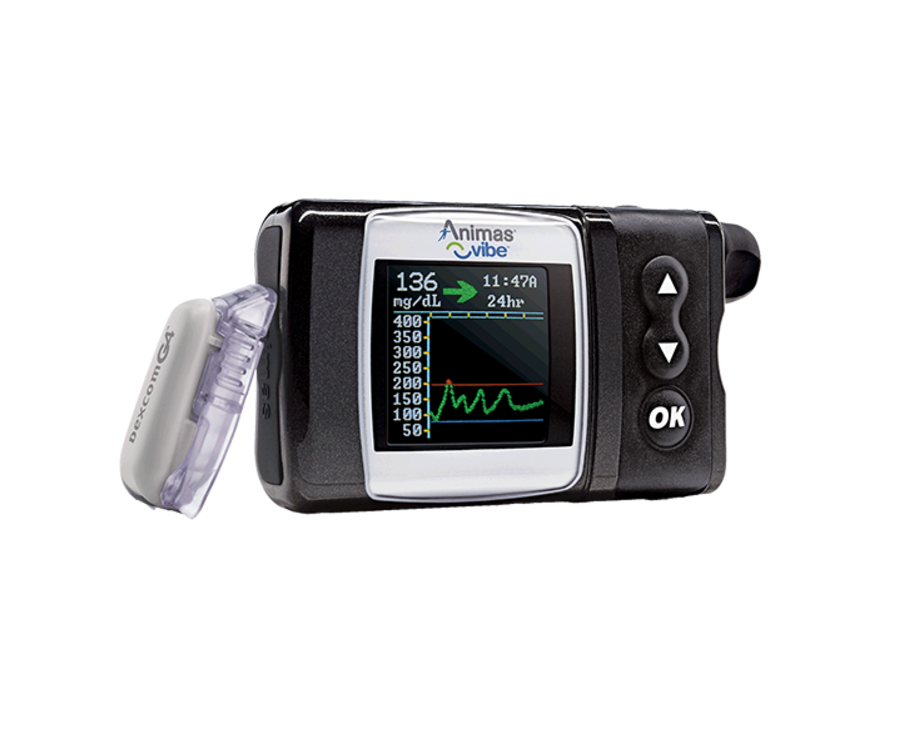 Animas® Vibe®
Animas® Vibe® is integrated with Dexcom G4® PLATINUM Continuous Glucose Monitor System. It reveals a complete view of glucose highs, lows, and rates of change over time to help guide therapy adjustments.
Fine-tuned insulin delivery offers a low basal increment of 0.025 units per hour and a low bolus increment of 0.05 units
Color-coded trend arrows and lines show the direction and rate of glucose change on a high-contrast color screen
In-pump bolus calculators help correct for food intake and blood glucose simply and accurately
Jump-to-Value feature automatically populates calculated bolus amount with one click
Long-wear sensor approved for up to 7 days of wear
Customizable alerts to indicate high and low glucose levels
Available in five colors - blue, black, silver, pink or green
Animas® Vibe®
Insulin Pump Specs:
Memory non-volatile: 500 bolus, 270 basal, 120 daily total, 30 alarm, 60 prime, 30 Suspend
Use with Water: Waterproof - 12 ft. for 24 hrs.
Size: 3.25" x 2" x 0.86"
Weight: 3.7 oz.
Battery: One AA alkaline or one lithium battery
Backlight: Yes
Screen Display: High contrast color screen
Available Colors: Blue, Black, Silver, Pink, Green
Basal Rate Minimum Start: 0.025 units
Total Basal Rates/Profiles: 4 patterns up to 12 rates each
Temporary Basal Rate: Yes
Minimum Bolus Increments: 0.05 units
Reservoir Capacity: 200 units
Range of Sensor to Insulin Pump: 12 ft.
Data Management: Diasend® (Internet-based)
Compatibility: Diasend® is compatible with PCs running Microsoft® Vista®, Microsoft® Windows® XP, Windows® 7 and Apple computers running MAC OS® 10.5.7 or later.
CGM Specs:
Sensor Life: Up to 7 days
Angle of Sensor Insertion: 45 degrees
Sensor Gauge: 26
Sensor Length: 12 mm
Receiver: Inside the pump, no separate receiver
Displays Directional Trends: Yes
Displays Glucose Numbers: Yes
Approved Age Range: 2 years and older
Customizable Alarms for High & Low Settings: Yes
Alarms for Hypoglycemia: Yes
Range of Receiver to Transmitter: 20 ft.
Transmitter Battery Life: 6 months
Transmitter Size: 1.5" x 0.9" x 0.5"
Water-Resistant Sensor and Transmitter: Yes, 8 ft. for 24 hrs.
Download Capability: Mac/Windows
REORDER NOW
Existing patients, click to log in or register your CCS Medical account.
REORDER
NEW TO CCS MEDICAL?
New patients, call or click to get started today!
1.888.MEDICAL (633.4225)
GET STARTED