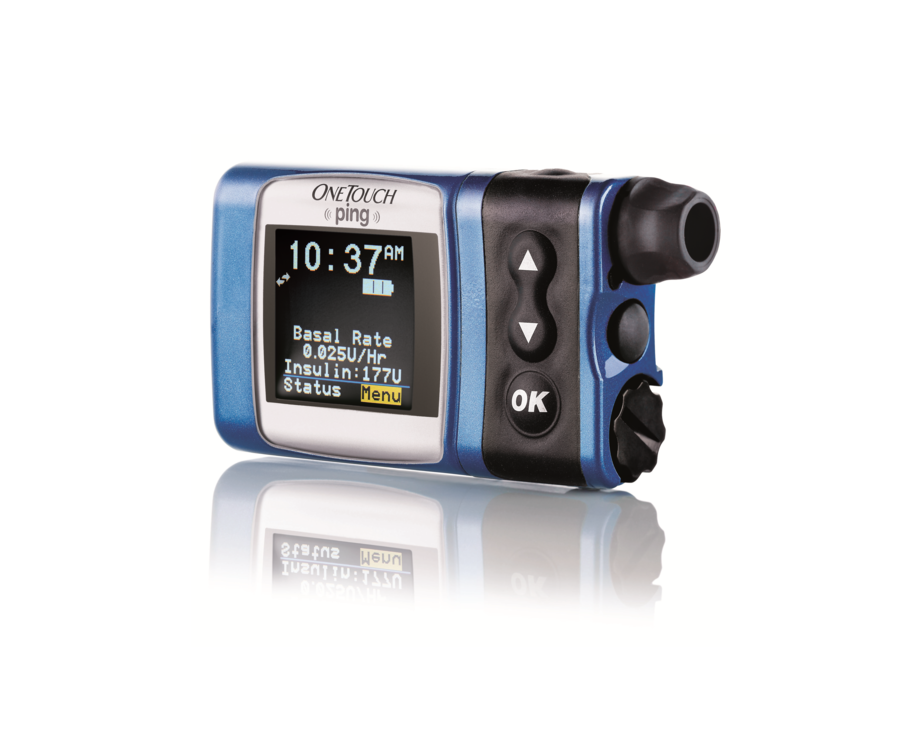 Animas« OneTouch« Ping« Glucose Management System
Animas« OneTouch« Ping« is a two-part system featuring an insulin pump and a Meter Remote that communicate and share information wirelessly for insulin delivery.
Meter Remote calculates how much insulin is needed and directs the pump to deliver it
Fine-tuned insulin delivery offers a low basal increment of 0.025 units per hour
Flat panel color screen with self-illuminating display viewable from a wide angle
Meter Remote preloaded with 500-item CalorieKing food database for carbohydrate counting
Bolus calculator helps achieve glucose control after meals
Uses OneTouch« Ultra« Blue Test Strips with DoubleSure« Technology, which automatically checks each blood sample twice to confirm the result
Available in five colors - blue, black, silver, pink or green
Animas« OneTouch« Ping«
Memory non-volatile: 500 bolus, 270 basal, 120 daily total, 30 alarm, 60 prime, 30 Suspend
Use with Water: Waterproof - 12 ft. for 24 hrs.
Size: 3.25" x 2" x 0.86"
Weight: 3.74 oz. with cartridge cap, Energizer and no insulin syringe; 3.21 oz. with cartridge cap, battery cap and no insulin syringe
Battery: One 1.5-volt lithium AA or one 1.5-volt AA Alkaline
Backlight: Yes
Screen Display: High contrast color screen
Available Colors: Blue, Black, Silver, Pink, Green
Basal Rate Minimum Start: 0.025 units
Total Basal Rates/Profiles: 4 patterns up to 12 rates each
Temporary Basal Rate: Yes
Minimum Bolus Increments: 0.05 units
Reservoir Capacity: 200 units
Data Management: Diasend« (Internet-based), EZ Manager, OneTouch« Zoom«
Compatibility: Depends on program
REORDER NOW
Existing patients, click to log in or register your CCS Medical account.
REORDER
NEW TO CCS MEDICAL?
New patients, call or click to get started today!
1.888.MEDICAL (633.4225)
GET STARTED