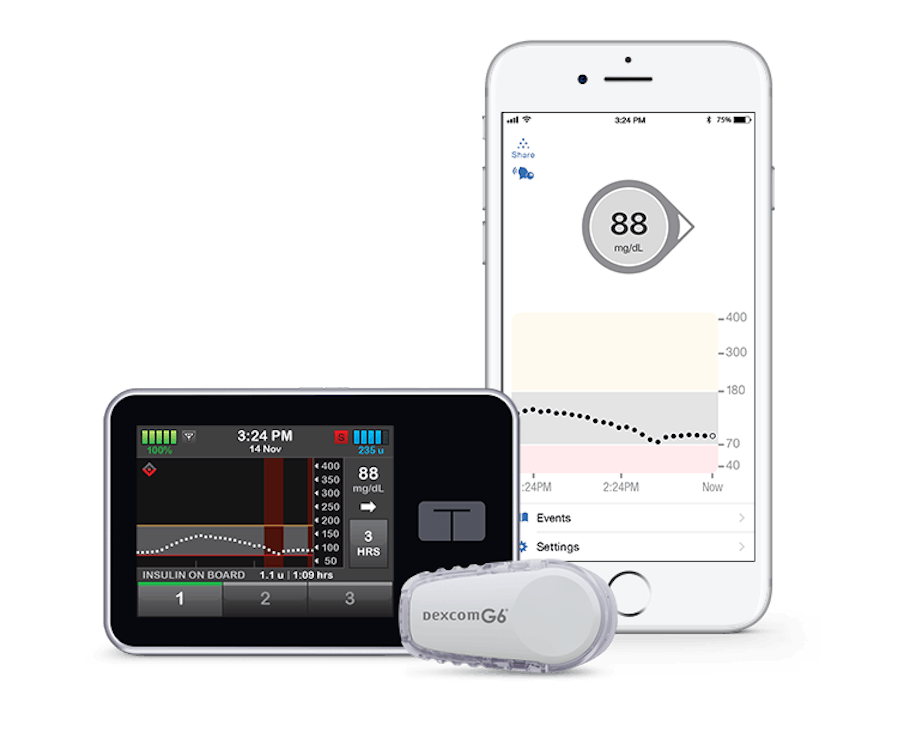 Tandem Diabetes Care® t:slim X2 TM Insulin Pump
Enjoy more freedom managing diabetes with the t:slim X2 TM insulin pump, which hosts many advanced features for today's modern world.
No fingersticks when integrated with the Dexcom G6® Mobile CGM*
One of two predictive technologies available: Control-IQ or Basal-IQ®
Control-IQ advanced hybrid closed-loop technology adjusts insulin delivery while still allowing manual bolus adjustment
Basal-IQ® technology reduces the frequency and duration of low glucose events
Remote software updates available to keep the pump up to date with the latest technology
Quickly view insulin delivery and glucose history with just a few taps
In-depth analysis capabilities with the t:connect® web-based application
Large color touch screen to access all pump functions
Watertight construction tested to 3 feet for up to 30 minutes
Bluetooth wireless technology
Customizable settings with up to six profiles
Rechargeable battery via micro-USB port
* If glucose alerts and readings from the Dexcom G6® CGM System do not match symptoms or expectations, use a blood glucose meter to make diabetes treatment decisions.
Tandem Diabetes Care® t:slim X2
Insulin Pump Specs:
Memory: 90 days
Use with Water: Watertight - 3 ft. for 30 mins.
Size: 2" x 3.13" x 0.6"
Weight: 3.95 oz. with full reservoir
Battery: Rechargeable lithium polymer battery
Backlight: Yes
Screen Display: Color touch screen
Available Colors: Black
Basal Rate Minimum Start: 0.001 units at programmed rates > 0.1 units/hour
Total Basal Rates/Profiles: 6 profiles, 16 timed settings per profile
Temporary Basal Rate: Yes (from 15 mins. to 72 hrs.)
Minimum Bolus Increments: 0.01 units
Reservoir Capacity: 300 units
Data Management: t:connect® Mobile App and t:connect® web application
Compatibility: Check the Tandem® Diabetes site for support
For important safety information, click here.
CGM Specs:
Sensor Life: 10 days
Angle of Sensor Insertion: 45 degrees
Sensor Gauge: 26 (needle)
Receiver Size: 4" x 1.8" x 0.5"
Displays Directional Trends: Yes
Displays Glucose Numbers: Yes, every 5 minutes
Approved Age Range: w/Dexcom G6 TM - Ages 2+ | w/Control-IQ TM or Basal-IQ® - Ages 6+
Customizable Alarms for High & Low Settings: Yes
Alarms for Hypoglycemia and Hyperglycemia: Yes
Control-IQ TM - increase or decrease basal to ensure time in range; adjustments for sleep and exercise, maintaining 80-180 mg/dL; auto-correction for hyperglycemia
Basal-IQ® - low glucose suspend if level predicted to go below 80 mg/dL in next 30 minutes, resuming insulin when levels rise
Range of Receiver to Transmitter or Smart Device: 20 ft.
Transmitter Battery Life: 3 months
Transmitter Size: 1.5" x 0.9" x 0.5"
Water Resistant Sensor and Transmitter: Yes, 8 ft. for 24 hrs.
Download Capability: Auto remote software updates; t:connect® Mobile App for smartphone
For important safety information, click here.
REORDER NOW
Existing patients, click to log in or register your CCS Medical account.
REORDER
NEW TO CCS MEDICAL?
New patients, call or click to get started today!
1.888.MEDICAL (633.4225)
GET STARTED