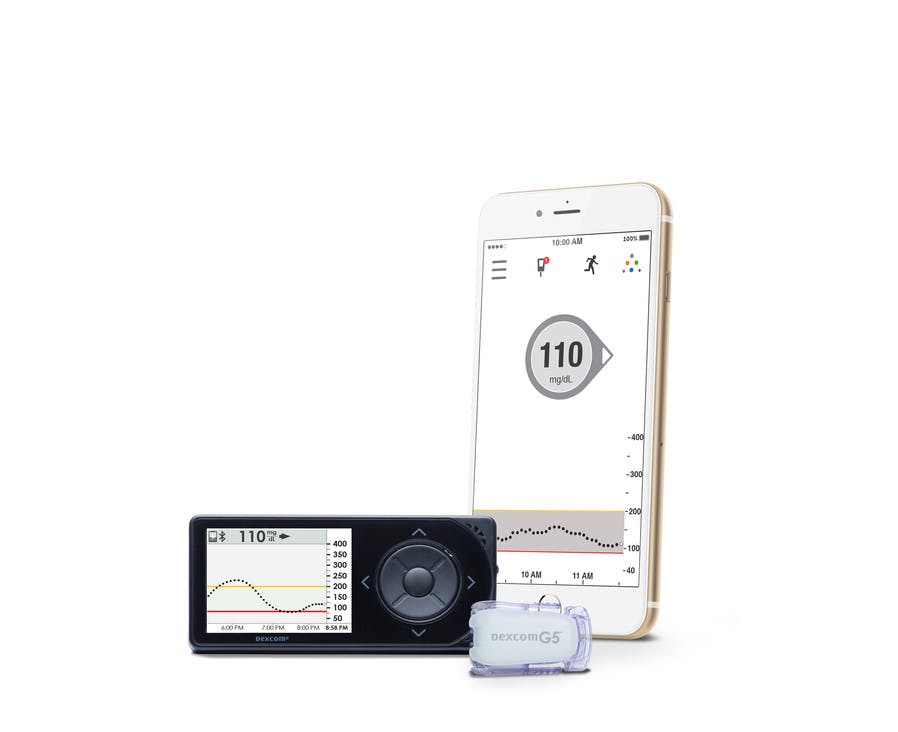 Dexcom G5« Mobile Continuous Glucose Monitoring
Dexcom G5« Mobile is the first fully mobile CGM system that sends glucose data directly to a smartphone app for real-time diabetes management.
View data on a compatible smart device* or on the Dexcom G5« Mobile Receiver
Transmitter wirelessly sends glucose information every 5 minutes directly to an app on iOS-enabled devices
Dexcom G5 Mobile has the ability to share glucose levels, trends and data with up to five "followers".
Alerts and alarms from Dexcom G5 Mobile appear as a text message for discrete monitoring.
Log events affecting glucose levels such as food, exercise, and health, directly on a mobile device to track how daily activities influence glucose trends
Dexcom G5 Mobile is approved for adults and children as young as 2 years with diabetes.
Trend graphs, directional trend arrows, and current glucose levels keep user fully informed at all times
*Smart device does not come with transmitter and receiver.
Dexcom G5 Mobile CGM System
Sensor Life: 7 days
Angle of Sensor Insertion: 45 degrees
Sensor Gauge: 26 (needle)
Receiver Size: 4" x 1.8" x 0.5"
Displays Directional Trends: Yes
Displays Glucose Numbers: Yes, every 5 minutes
Approved Age Range: 2 years and older
Customizable Alarms for High & Low Settings: Yes
Alarms for Hypoglycemia: Yes
Range of Receiver to Transmitter or Smart Device: 20 ft
Transmitter Battery Life: 3 months
Transmitter Size: 1.5" x 0.9" x 0.5"
Water Resistant Sensor and Transmitter: Yes, 8 ft. for 24 hrs.
Download Capability: Auto download from Smart Device, USB download from receiver
REORDER NOW
Existing patients, click to log in or register your CCS Medical account.
REORDER
NEW TO CCS MEDICAL?
New patients, call or click to get started today!
1.888.MEDICAL (633.4225)
GET STARTED